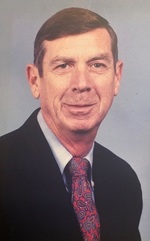 Ralph Noble Bassett, 84, of Leesburg passed away on May 12 in hospice care after a brief illness.
He is survived by his wife of 62 years, Melba; his daughter Kitsie Riggall (Chris), grandsons Chart and Hunter, all of Atlanta; son Frank Bassett (Brad) and grandchildren Annelle and Grady, all of Victoria, British Columbia, Canada; sister Evelyn Bassett Cook (Paul Mounts) of Bandon, Oregon; and his beloved canine companion Fred.
Ralph was born at his family home, Pineola, in Fort Valley, Georgia, on September 26, 1936. He graduated from Davidson College, where he was a member of Phi Delta Theta, The National Society of Scabbard and Blade and a winner of the Wall Street Journal Award for economics. Following college, he served in the U.S. Army and Army Reserve as a First Lieutenant.
Ralph operated his family's farm for more than a decade and was honored with the Outstanding Young Farmer of the Year award in 1970.
In the early 1970s, he and his family relocated to Florida, first in Clearwater and, later, Leesburg. He spent more than three decades in agribusiness sales. Deeply grounded in his faith, Ralph was a long-time member of Morrison United Methodist Church, where he served as usher and head usher for more than 40 years, and a member of the Inquirers' Sunday School class. Ralph also served on the Board of Directors of the Morrison Opportunity Thrift Store for 20 years and spent many hours working there as a volunteer.
A farmer in spirit throughout his life, Ralph had a deep love for his family, his yard and all dogs. He also enjoyed travel with Melba and many summers spent in the North Carolina mountains.
A memorial service will be announced once Canadian border restrictions are eased and the entire family can gather. In lieu of flowers, contributions may be made to Morrison United Methodist Church or the Florida United Methodist Children's Home.
Online condolences may be left at www.beyersfuneralhome.com Arrangements entrusted to Beyers Funeral Home and Crematory, Leesburg, FL.