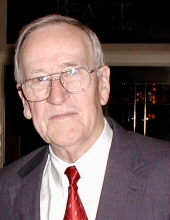 Robert (Bob) Harris Kelly died peacefully at Johnston Medical Center in Smithfield on April 26, 2019 at the age of 92. He was born in Erwin, NC on September 12, 1926 to Anna Roberta Davis and Richard Sterling Kelly. Bob attended Erwin High School before attending Davidson College in Davidson, NC and NC State University in Raleigh. He enlisted in the Navy in 1944 and spent the next two years stationed in the Great Lakes, Illinois area.
Bob married Ella Margaret (Peggy) Moffitt in 1951 and they made their home in Erwin. He was employed with Erwin/Burlington Mills for almost forty years before retiring in October of 1987. Bob worked his way through various positions in the mill to become a Superintendent of over five hundred employees, many of whom became wonderful and life long friends. Throughout the years, many people at Burlington Mills have stated that Bob Kelly served as a wonderful role model in their daily lives.
Bob's service to Erwin extended into the community as well. He was the Finance Chair for Good Hope Hospital for twenty five years and was a member of the First Federal Bank board for twenty years. As a member of the Erwin Lion's Club for over fifty years, Bob helped to sponsor football and baseball fundraising events, was involved with services for the blind, and distributed baskets to the needy at Christmas. Another community interest of Bob's was the Erwin Historical Society. He was a board member for over twenty five years and helped to preserve both church and local history. When his children were young, he also served on the Erwin School Board and was the chairman of that board for many years. On January 28, 2016, as a reward for his dedicated community service, Bob was named Erwin's Man of the Year at eighty nine years old.
Erwin Presbyterian Church played a very special part in Bob Kelly's life. He taught Sunday School, served as a deacon and an elder, was the Sunday School Superintendent, was the Building and Grounds Chair, the Finance Chairman, and sang in the choir for over fifty years. Bob heartily enjoyed a round of "Onward Christian Soldiers" that would raise the rafters in the church. He loved the old traditional hymns.
In addition to his parents, Bob is preceded in death by his wife Peggy, who he was married to for sixty four years; a brother, Dr. Richard Sterling Kelly, Jr. and wife Rosalie Huske of Fayetteville, NC; and a sister, Janet Kelly Bryan and husband Bob of Dunn, NC.
Bob is survived by his three children: Stuart Kelly Davis and husband Ron of Erwin, NC; Gaither Kelly Velker and husband Steve of Smithfield, NC; and Robert Harris Kelly, Jr. and wife Pamela Bath of Dunn, NC. Bob is also survived by nine grandchildren: Margaret Alston Davis of Raleigh, Spencer Harrison Davis of Winston Salem, Mary Thorburn Davis of Wilmington, Sarah Gaither Fleming of Smithfield, John Dixon Fleming, III and wife Claira of Raleigh, Elizabeth Fleming Dunigan and husband Josh of Fayetteville, Robert Harris Kelly III and wife Samantha of Washington, NC, Catherine Bergstrand Kelly of Raleigh, and William Rhodes Kelly and fiancé Heather Thomas of Washington, NC. Bob also leaves three great grandchildren: John (Jack) Dixon Fleming, IV and Cameron Sailer Fleming of Raleigh, and Robert (Beau) Harris Kelly IV of Washington, NC. He is also survived by many special nieces, nephews, cousins, and longtime friends.
Bob was affectionately known by his grandchildren as "Grand D". He leaves them his enduring love of God, his great love of family, his indomitable spirit, his enjoyment of music, and his passion for Lake Waccamaw and the farms at Horseshoe Bend.
The family would like to extend our heartfelt thanks, for their committed and excellent care, to Dr. Rao and his staff in Erwin, NC, the doctors and staff at Betsy Johnson Hospital in Dunn, NC, and to Dr. Lue and the staff at Springbrook Nursing and Rehabilitation Center in Clayton.
The family will receive friends at Skinner and Smith in Dunn, Tuesday morning , April 30th from 10:00 until 11:00 with a service following in the chapel. Interment will follow the service at Greenwood Cemetery in Dunn. In lieu of flowers, memorials may be made to the Erwin Lion's Club. Please send the memorials to the Erwin Lions Club ℅ R. Godwin, at P.O. Box 7, Erwin, North Carolina 28339.
© Skinner & Smith Funeral Home